It's been a little over a year now since I picked up a new Jackson Kayak 'Liska' from Trailhead Paddle Shack. I was looking for a simple kayak, and in the Liska I found it. A great all-around boat, perfect for the lakes and rivers I fish throughout the Eastern Ontario region. There 3 key areas in which make the Liska WICKED; Stability, Comfort and Fishability. Let's explore these further.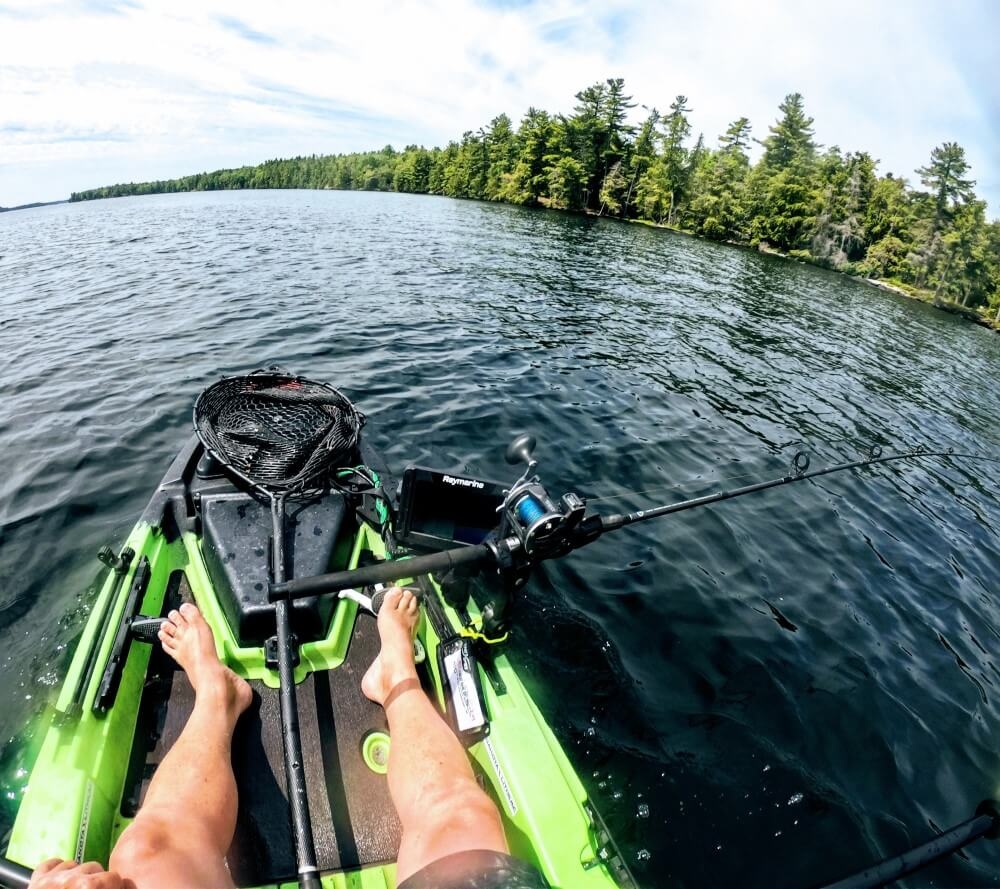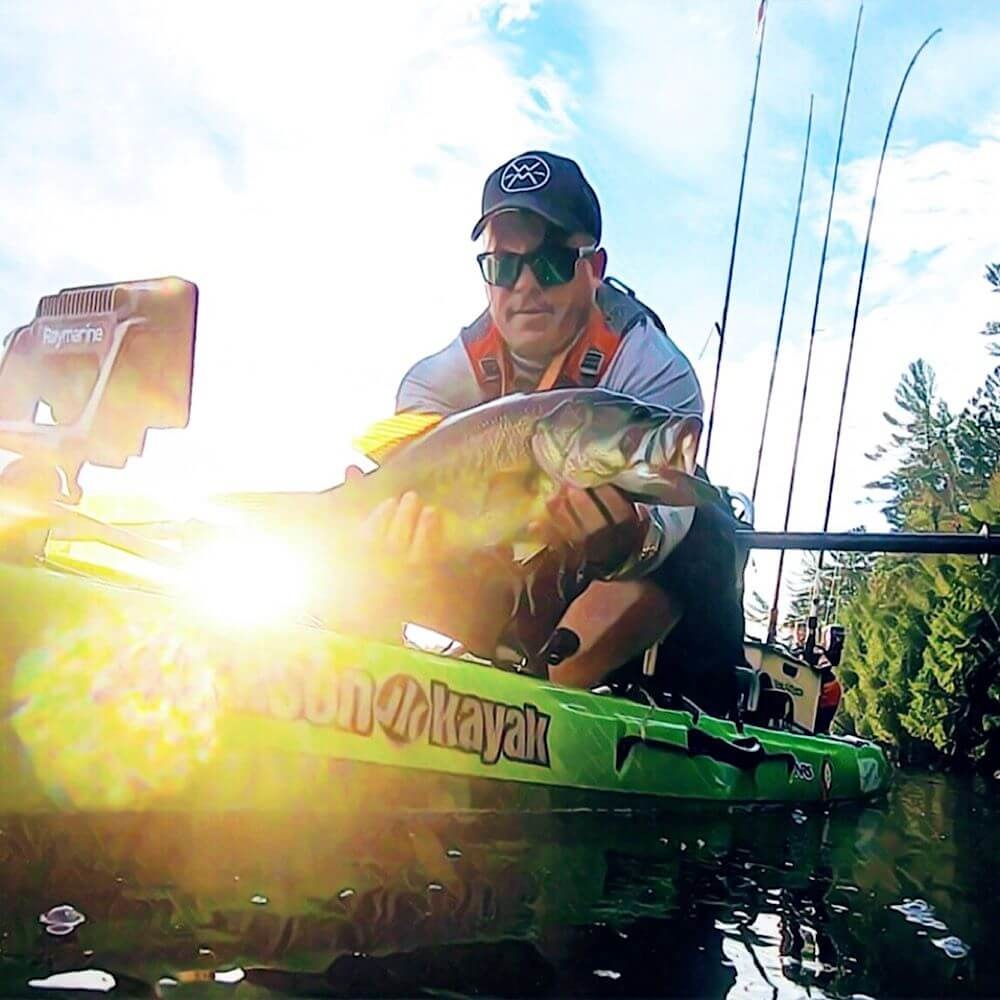 Stability 
The Liska offers features that will get beginners off to a great start. In on-line kayak fishing forums, there's a common question that is often asked; "What is the best kayak for standing?" It's no wonder that is such a popular question. Standing provides many benefits to the angler, whether it be to stretch your legs, or to add extra leverage when pulling those BIG hogs out of think thick cover. At 34" wide and a hull designed for secondary stability, the Liska is extremely stable. In fact, I may dare to say that it is the most stable kayak that weighs less than 90 pounds. You can stand with confidence in this kayak. Did I mention the cushion of the deck pads? They're definitely a nice option that can sometimes be overlooked when shopping for a sit-on-top.  
When fishing for Long-nose Gar in mid to late Spring, I prefer to paddle standing up. This SUP style of fishing allows me to spot large schools of prehistoric fish before they can get a glimpse of me. I can make long casts to the target and twitch my bait ever so slightly. If I'm lucky, a Gar will take the bait and proceed to go absolutely nuts, with acrobatic maneuvers and drag-pulling runs. Having an adjustable paddle is key when using this technique, as it can be lengthened as need be. I use a Werner Shuna hooked adjustable. It just so happens that the 'curtains match the drapes' with the JK special edition 'wicked' colour.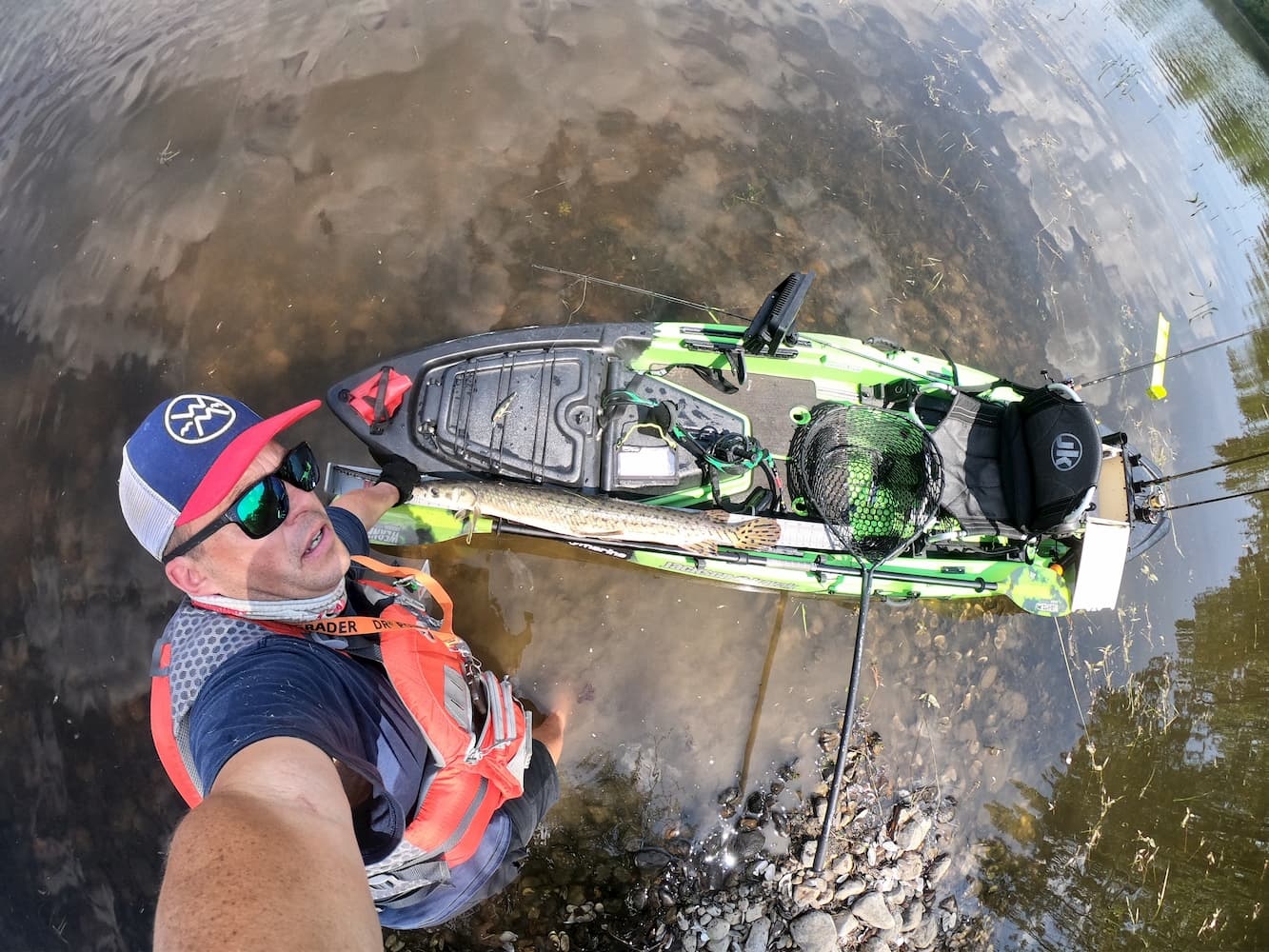 Comfort 
If you're anything like me, spending a full eight hours in a kayak can still feel too short when the bite is smoking hot! Luckily with the Liska (and many other JK kayaks), comfort while sitting is top-notch. 
Thanks to Jackson Kayak's Hi-Lo ergo seat system, an angler can easily adjust the height of their seat based on the conditions and their ability. If paddling for long distances, the lower seat position will provide even more stability. It's as simple as pulling a pin and lowering or raising the seat as need be. Personally, my seat is always in the high position. The seat in the Liska is mounted on a track system, providing anglers with infinite trimming options fore and aft. Jackson Kayak also has a lumbar pad accessory, which is a great add-on option for lower back support. 
Fishability 
What does that mean? Well, whether you're a beginner or seasoned pro, you want options in your sit-on-top fishing kayak that will make rigging easier, quicker, with the best use of limited space.  
The design team at Jackson Kayak put a lot of thought into the functionality of this boat by installing a track system that run along the gunnels on both sides of the boat. These are the perfect spots to mount your Yak Attack accessories such as rod holders, Vis-carbon flage, or roto-grip rod holders (to name a few).
A triangular hatch at the front of the cockpit is a great place to keep (hide) your wiring. Another large hatch at the bow of the boat is criss-crosed with bungies for paddle storage. Inside the hatch provides ample dry space, providing a great place to store gear for a weekend get-away to your favourite Algonquin Park brook trout lake or that secret section of smallie filled river. Multiple rod holders and a Molle storage bag attached to the seat are just a few additional perks. 
Final Thoughts 
The Liska doesn't pretend to be something it's not. Paddling this boat isn't going to set any speed records, nor is the rounded nose ideal in windy/wavy conditions. What it lacks in speed and tracking, it makes up for in stability and maneuverability. This kayak is a simple kayak that is light and rugged. At 84 pounds, this kayak is easy to drag and loves to be beaten up. The Liska is a back-lakes dream and a largemouth bass' nightmare! With an MSRP of $1619, this is a kayak that offers great value and will hold its resale value for years to come. 
Check out the Jackson Kayak Liska at one of the many Trailhead Paddle Shack Demo Nights. As with any kayak, paddle before you buy!