Posted on
By Customer Submission: Conrad Berlinguette

I love lists! Top destinations, lookouts, and a personal favourite of mine: best gear. 
Before I buy anything I make a list of alternative options and then compare that list against reviews and expert recommendations. Trekking footwear is, unfortunately, a market saturated with brands and opinions, making it difficult to know where to start. 
Allow me to simplify it: Lowa Renegade Mid GTX Hiking Boots
There is no 2nd or 3rd choice for me. Just this one-item list. It is the only boot that has never caused me to blister, and it fits like a glove right out of the box. No toe or heel tape for me anymore! 
They have taken everything I have been able to throw at (stomp on?) them. These wonderful pieces of foot armour have served me reliably in the Nevada desert, the mountains of Newfoundland, the streets of Europe, and most recently in the Himalayas. 
This last trek - October 2019 - was a great test of these boots: 10 days of hiking up to and down from  Mount Everest base camp. The temperature swung from hot sticky summer heat to freezing mountain ice and snow. The trail was either mud, uneven stone, or dirt. It was almost never flat, and never even. I changed my clothing, my beverage choices, and gear arrangements, but I never changed my boots. 
P.S. I would also like to mention my Patagonia rain shell and Osprey backpack, but those belong to another list.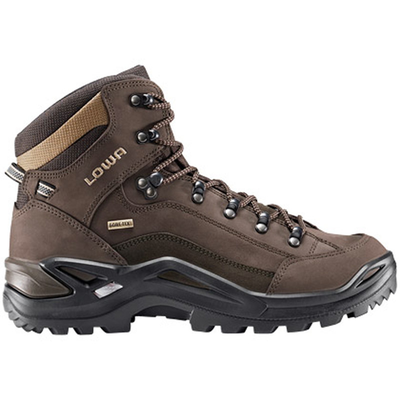 Lowa Renegade
Hit the trails, scramble over rocks, jump on your mountain bike, or take off to a far away destination. Incredible comfort, right out of the box. No break-in period required.