Posted on
By Customer Submission: Michel Blouin

In the Spring of 2015, I discovered Kayak Fishing, and it literally changed my life. I had always been an avid fisherman but living in Ottawa with limited storage space at my residence, my options were limited. Then a friend of mine introduced me to Kayak Fishing and my whole perspective on the sport of angling changed. I became really hooked to kayak fishing.
After a couple of seasons of great outings in the Outaouais region with my Ocean Kayak Torque, I found myself longing for companionship as I did not know anyone else who was as addicted to Kayak fishing as I was; it was a very solitary experience. So I decided to get myself a fishing companion. I am a big fan of Labradors so in the fall of 2017, I bought a beautiful puppy Lab named Toshi.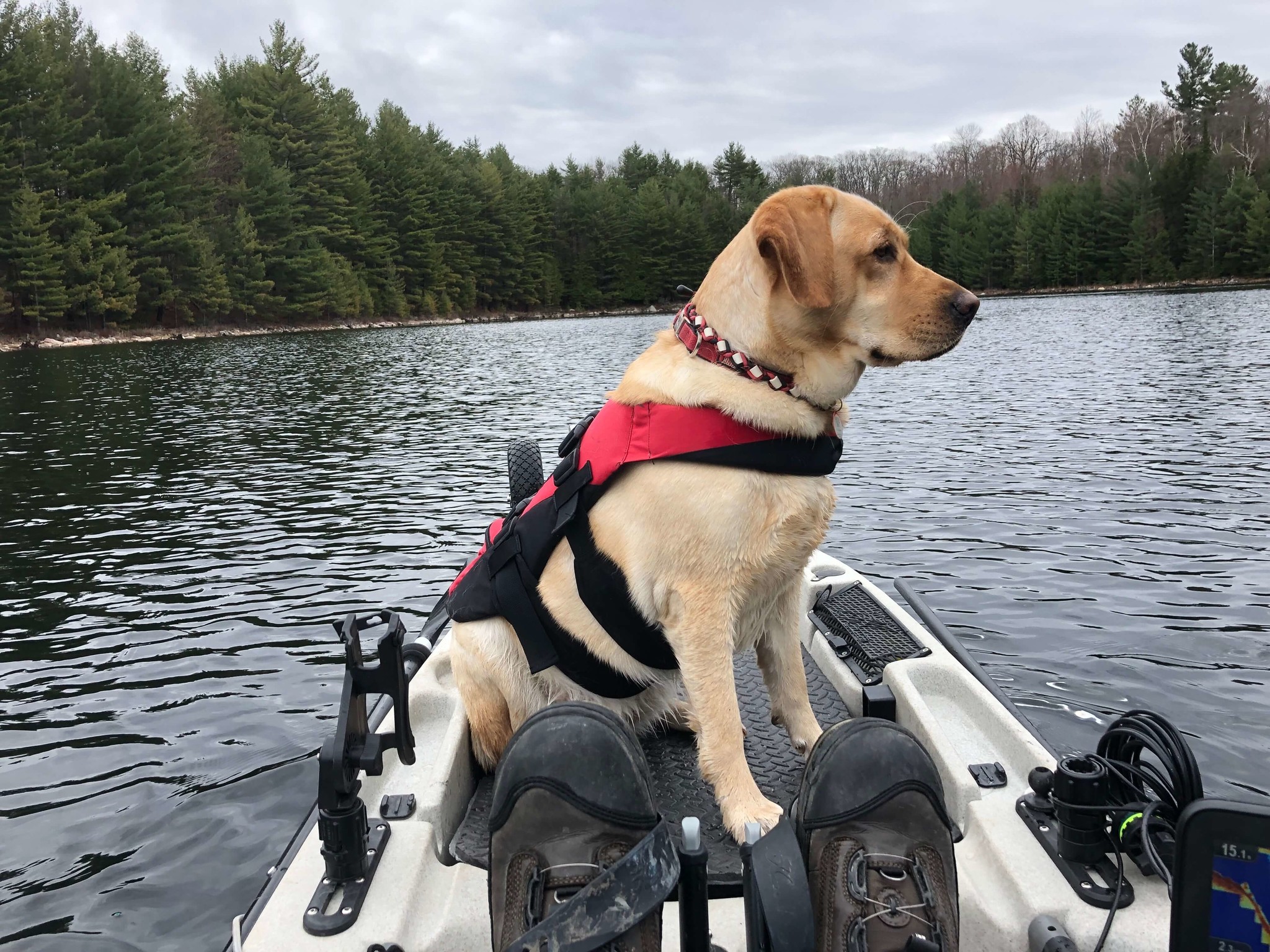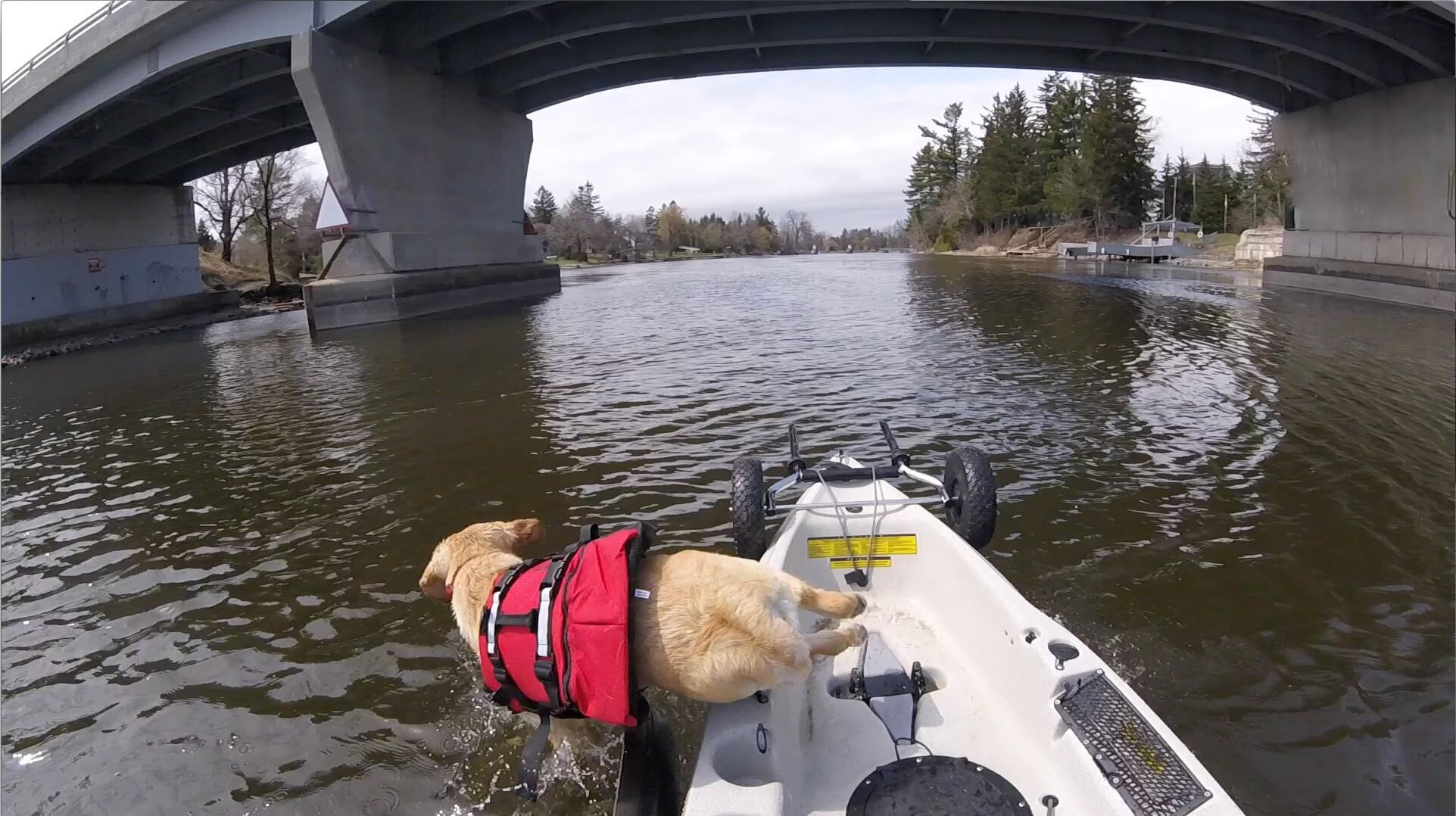 Now, obviously, my current Kayak would not be a fit for the two of us, especially that my girl would reach 35 Kilos (80lbs) in less than two years. So I did my research. I had a few criteria to make this work; first, I had to see her in front of me when I fish. Easier said than done since most if not all Kayak manufacturers put a large hatch in front of fishing kayaks for storage. Secondly, I needed my hands relatively free in case I needed to control my dog, so a pedal drive was required. After many weeks of research, I came to the conclusion that only a tandem kayak would work. I contacted my local Kayak store, Trailhead Paddle Shack, to see what options I had. After consultation with them, I ended up buying a Hobie Outfitter. Now, security is a priority for me and one thing that is great about that store is that I can bring my dog inside the store to fit her with the proper PFD. (Shop Dog PFD)
The first outing was in April of 2018 when the water temperature was just above the freezing point. I made her sit in front of the seat ahead of me and there we went. At that point, Toshi did not know much about swimming; she was barely 6 months old. Everything was great until some waves hit the side of the kayak and created a little splash close to her. She thought it would be fun to play with the waves and out of nowhere, she jumped! I think she was quite shocked at first, as she had never experienced the sensation of getting her head under very cold water. But thanks to the handle at the back of her PFD, I could grab her fairly quickly and swing her back in the Kayak. We went on to resume our run that day and somehow, she was not so keen anymore about jumping off the Kayak. The quiet Toshi continued to behave for a few more trips as that experience was fresh in her mind.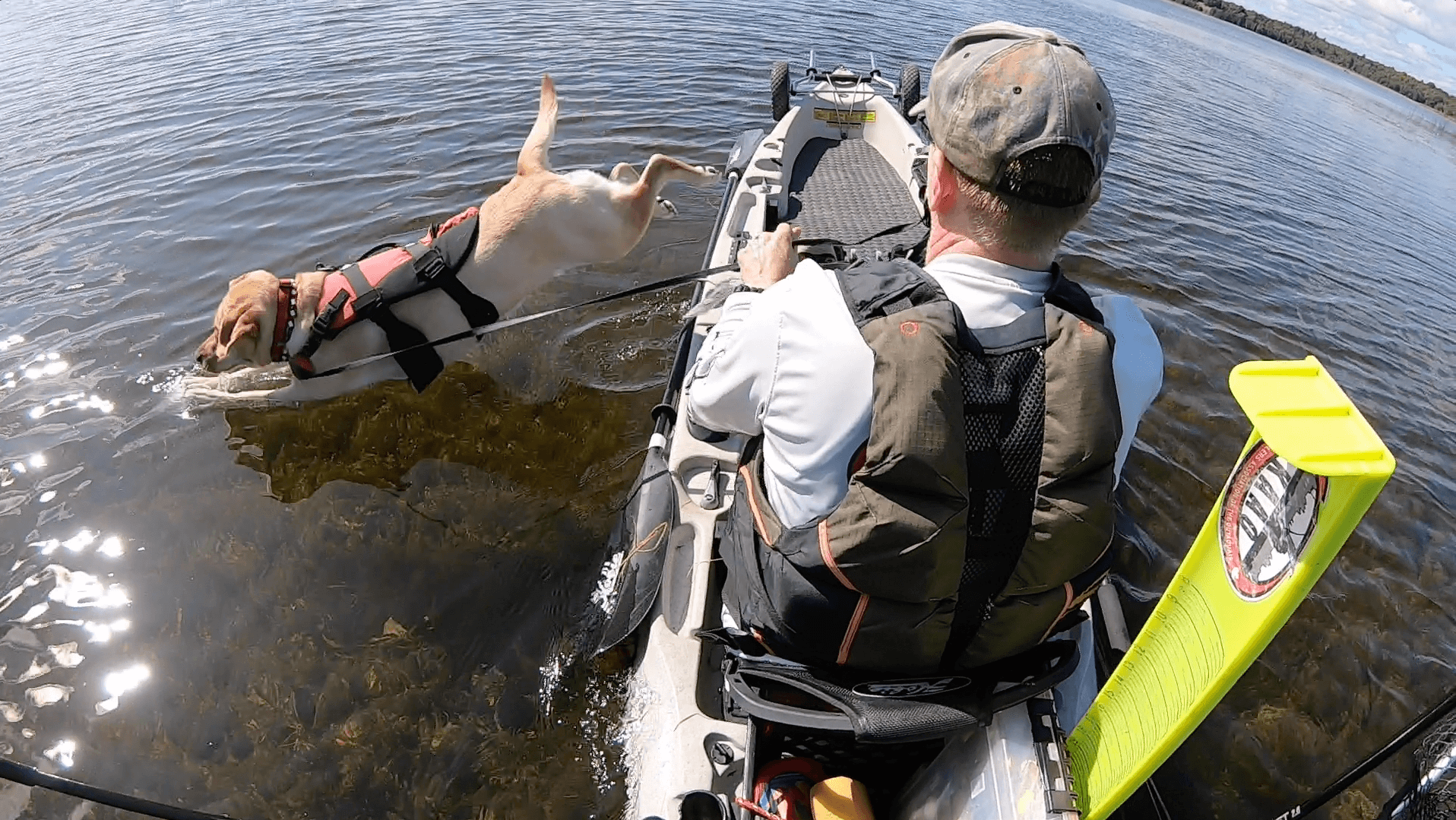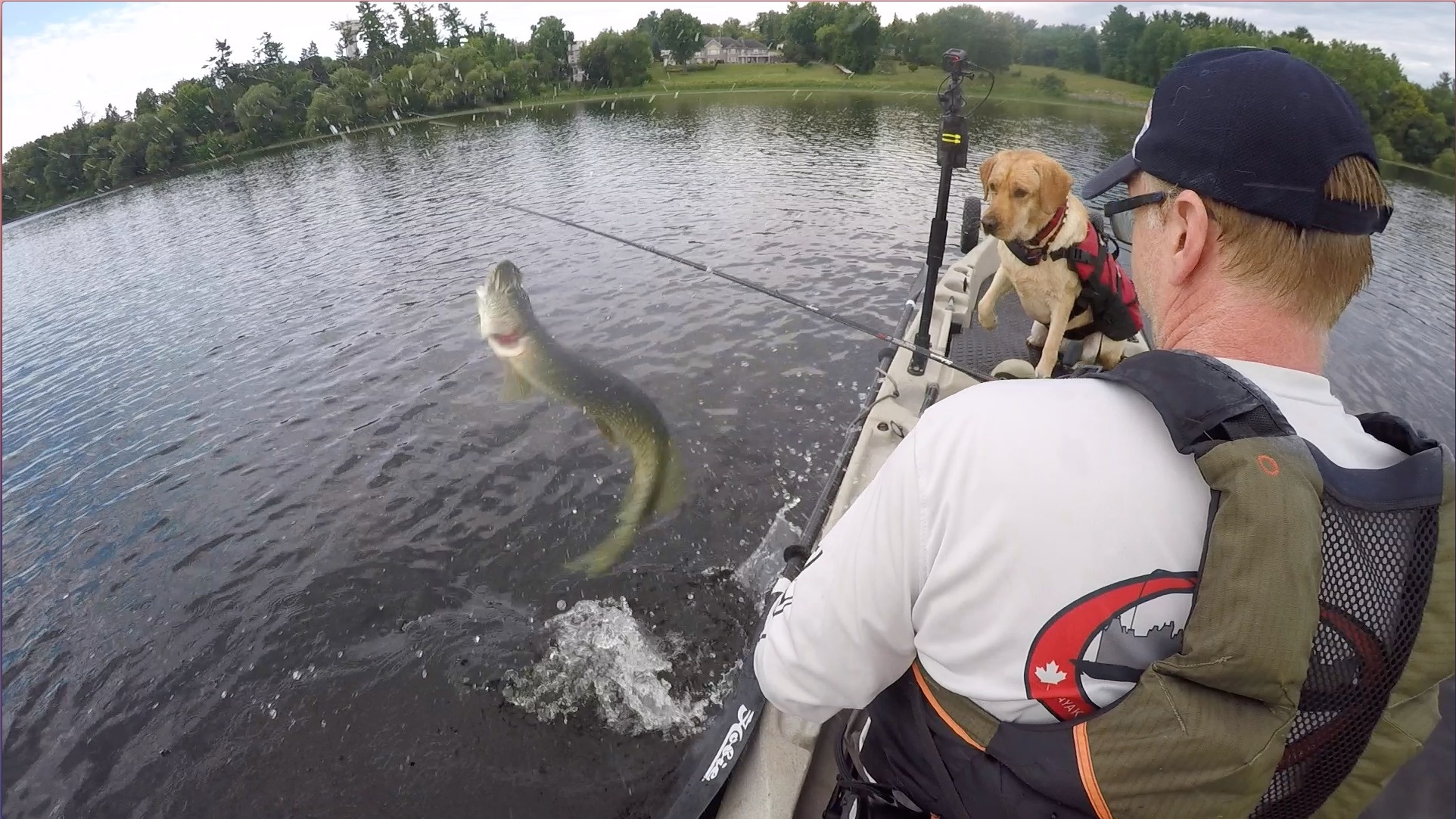 As summer arrived, she was now a very avid swimmer and loved the water, that made it a little more hectic on the kayak to say the least. Everything exciting made her want to jump in the water. Whether it was another dog on the shore or me catching a fish, she was ready to jump. Not easy to control a dog on a kayak, I used strong words, I use my net, I used my fishing rod to try to stop her from launching over the side of the kayak. Sometimes it worked and sometimes it did not. She was still a puppy in training after all. I remember one outing, a fishing tournament, I got my first bite and she jumped as soon as I said 'fish on!'. It took me 10 minutes to get her back in the Kayak as she was having so much fun swimming around. From that point on, I ensured she was tethered to the kayak with a 15-foot rope so I could retrieve her quickly.
Since then, we have had many fishing outings and a lot of good and sometimes not so good behaviour. But at the end of the day, all it takes is patience and repetition. She is getting better and better as time goes by and although she still sometimes jumps and goes for a swim, I really cherish the time spent with her on the water. She is a great companion and the best thing is, she is always willing to go fishing.